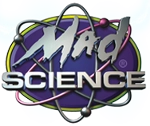 Mad Science - Arizona
STEAM Summer Camp
South Mountain Community College Guadalupe Center
9233 S. Avenida del Yaqui (Priest Drive), Guadalupe, AZ 85283
Jun. 12th - 15th
Participants will be introduced to the engineering design process while learning basic science, technology, engineering, arts, and math (STEAM) concepts like simple machines, electric circuits, programming, computational thinking, music, and storytelling. The project-based approach will emphasize problem identification, brainstorming, problem-solving, rapid prototyping, teamwork, and communication. The camp will culminate with the design and construction of a giant thematic chain-reaction machine and the performance of an oral story describing the machine!
This camp is a collaboration between the Arizona State University Polytechnic School and the South Mountain Community College Storytelling Institute.
$20 off Mad Science Summer Parties
This coupon is good for $20 off any Birthday Party during Summer with Mad Science! Visit our website for party info, special add-ons, our Mad Lab location and book with us! For the $20 discount, enter code USFGB20 at checkout. https://nephoenix.madscience.org/parents-birthdayparties Call our office 480-222-2233 for registration help.